Deputy agriculture minister kang-zhen yu to the yellow sea fisheries research institute of ecological fishery demonstration base
Nov 17th, 2016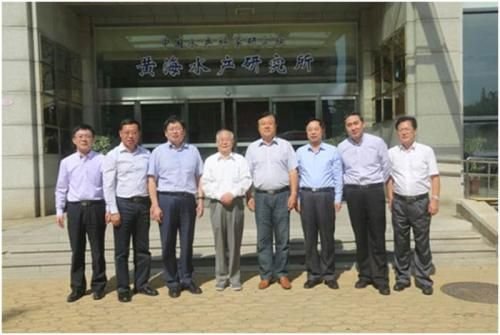 On November 1, deputy agriculture minister kang-zhen yu to the yellow sea fisheries research institute of ecological fishery demonstration base - Qingdao LuHaiFeng research sea ranch, the yellow sea by xian-shi jin, director, deputy director of li and related scientific research personnel to the scene of the research introduced the relevant situation.
Kang-zhen yu, vice minister of the scene looked at LuHaiFeng oceanic ranch iot monitoring center, the area of artificial reefs, anti-wave culture culture zones, leisure sea fishing facilities, and through the Internet of things system remote viewing the sea ranch seedling breeding base, deep water aquaculture fish, artificial reef underwater video and remote disease diagnosis, detailed understanding of the Marine farm in shandong province construction present situation, the "sea ranch + Internet" LuHaiFeng oceanic ranch to build and run.
Report to vice minister kang-zhen yu xian-shi jin, director of the support of science and technology in the yellow sea where the sea ranch related work and research results; Long tao researcher by ocean pasture programming model introduced LuHaiFeng ocean pasture ecology priority, the construction of the sea as a whole concept, shows the discharge LuHaiFeng oceanic ranch integrated artificial reef, proliferation, algal field construction, deep water area, leisure fishing, fisherman's wharf, tourism and characteristic seafood such as content of ecological fishery innovation model.
Kang-zhen yu, vice minister of Qingdao LuHaiFeng oceanic ranch running mode, shandong ocean pasture construction achievements and promote visual, measurable and controllable ecological development idea, the yellow sea where the sea ranch's achievements of science and technology support and so on to give the full affirmation, and encourage everyone in promote transformation and upgrading of fisheries make new greater contributions.
Zhang Xianliang agriculture fishery fishery administration, shandong province, the director of Marine and fishery shou-xin wang and other accompanying research.